Washington Street United Methodist Church is hosting a fundraising concert to benefit the people of Ukraine on Saturday, May 6, at 7:30 pm in its historic sanctuary. There is no charge to attend, but reservations are recommended due to limited seating. Seating is first-come, first-served.
There is no charge to attend this concert, however, a love offering or donation is greatly appreciated.
String Time Duo was formed in 2021, by award-winning musicians Angelina Reed (domra) and Marina Alexandra (guitar). Playing a variety of world and classical music, the duo is based in Charlotte, North Carolina.
ABOUT THE DUO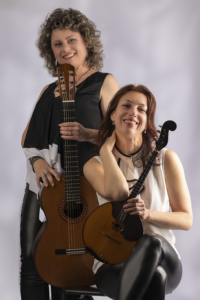 MARINA ALEXANDRA: Marina Alexandra was born in Ukraine, where she began her guitar studies at the age of six. In 1996, she immigrated with her family to the United States, and in 1998, she was awarded a scholarship to earn her Master of Music degree at the University of South Carolina. She is one of the founders of Charlotte for Ukraine and its executive director.
She has received awards in several guitar competitions including the Music Teachers National Association State and Regional Competitions and was a semifinalist in the 6th annual Edwin H. and Leigh W. Schadt National String Competition for classical guitar. Marina has a concert career spanning more than 20 years, taking her to Piccolo Spoleto Festival, National Public Radio, Allentown Radio, and hundreds of venues including colleges, guitar festivals, and museums throughout the USA. Her TEDx Talk has close to 3 million views.
She has released three albums including "Timeless Enchantment" (Baroque, Classical, Modern, and Latin-American music), "A Moment of Magic" (modern music by Russian composer, Nikita Koshkin), and "Americas from North to South" (flute and guitar music). Her albums received high praise from such prestigious music magazines as Soundboard, Classical Guitar (UK), and American Record Guide.
ANGELINA REED (domra) has toured the world as a soloist with the Andreyev Russian Folk Orchestra of St. Petersburg, Russia, performing with them at Carnegie Hall's 100th anniversary. A virtuoso of the three-string domra, she holds a Master's degree in Performance and Teaching Music from Gnessin Institute of Music in Moscow. She holds the titles of Laureate of All-Russian National Competition among professional domra players (Nizhny Novgorod, 1990), and is a laureate of the international "Cup of the North" competition (Cherepovets, 1992). Angelina was the classical mandolin soloist with the Chamber Orchestra of St. Petersburg, Russia. She has played numerous performances of Baroque and classical music at the Philharmonic Hall and Capella Hall in St. Petersburg, Russia. After immigrating to the U.S. in 2001, Angelina performed around the country, most notably at Spivey Hall, and is the concertmaster and domra soloist of the Atlanta Balalaika Society Orchestra. Angelina also performs with the domra-guitar duo "9 String Theory," the ensemble "Balalaika Fantasie," as well as the domra-guitar duo, "String Time" around the USA.
Charlotte for Ukraine Charlotte for Ukraine is a program run by volunteers in Charlotte, NC, and is administrated by the Southern Guitar Festival nonprofit organization. The program originated to serve Ukrainian refugees escaping the war and coming to the Carolinas. The organization takes great pride in partnering with nonprofit organizations such as Brave Works, Carolina Refugee Resettlement Agency, CMS school system, St. Gabriel's Catholic Church, and other community partners to provide Ukrainian refugees with crucial information and resources. Charlotte For Ukraine hosts regular rallies in uptown Charlotte to raise awareness among US citizens and attract attention to the humanitarian crisis in Ukraine. It supports projects in Ukraine such as food delivery to the older population in Ukraine who cannot leave their apartments; food for animal shelters, and purchasing (food) a variety of items for orphanages in western Ukraine, which have just accepted hundreds of orphans from the East of Ukraine due to its daily bombardment; providing immediate monetary assistance to people in Ukraine in crisis; medical supplies for people in Ukraine; heat devices for civilians in Ukraine; and the people in crisis who currently live in Ukraine, and Ukrainian refugees coming to North Carolina and South Carolina.
UMCOR: As the humanitarian relief and development arm of The United Methodist Church, the United Methodist Committee on Relief – UMCOR – assists United Methodists and churches to become involved globally in direct ministry to persons in need. UMCOR comes alongside those who suffer from natural or human-caused disasters – famine, hurricane, war, flood, fire, or other events—to alleviate suffering and serve as a source of help and hope for the vulnerable. UMCOR provides relief, response, and long-term recovery grants when events overwhelm a community's ability to recover on its own. UMCOR also provides technical support and training for partners to address emerging and ongoing issues related to disaster relief, recovery, and long-term health and development.