Reconciling Ministries Team
---
About the Team
On January 7, 2020, the first meeting of the Reconciling Ministries Team gathered together to begin focusing on LBGTQI issues within our church and our community.
An agenda and a copy of the Discernment Implementation Team Report to Church Council (May 2019) were distributed. Each attendee self-introduced by responding to the question, "What is your hope for this team?" Comments shared touched on the following hopes:
 Dialogue with and unity of the congregation;
 Supporting groups and being a "safe space" for LGBTQA+ groups to meet;
 Desire to change the community at large, not just those at WSUMC;
 Being a useful and helpful member; helping to build on the welcoming spirit at WSUMC;
 Advocacy and ministry in the community to LGBTQAI+ persons, particularly in the downtown area;
 Learn more and help to build a unified church in welcome diverse persons;
 Be of service to the committee; help spread the message of inclusion;
 Help address the issue of systemic discrimination in the discipline; be an active change agent;
 Engage in the committee and help build community;
 Help to meet the needs of individuals we are not reaching now – young adults; use creative means to do the committee's work (Go Fund Me example); and
 Build bridges with our community; do meaningful work.
Two specific goals were the focus for the team stated in the Discernment Implementation Team Report to Church Council:
1) to lead advocacy and information efforts within our congregation as we strive to see a transformed United Methodist denomination wherein all
members have access to all the privileges of membership, and 2) to build ministries of compassion and justice with and for the LGBTQAI+ community.
Many topics were discussed pre-COVID. Some of which have taken place, others are on hold until we pass this health crisis.
Discussion followed regarding the focus of the group. Among the topics discussed were:
the need to reach out to Harriett Hancock Center, PALSS, Transitions, SC Equality about partnership opportunities;
Invite reps from USC GLBTQ Alliance, Columbia College, Allen and Benedict Universities GSAs to dinner and sharing, to build connections and understand better the needs of today's GLBTQAI+ college students;
the issue of sustainability of UM churches and what church may look like in the future (not Sunday morning at 11); sharing that the WSUMC Identity Statement is included on all communication that comes from the church;
the possibility of putting the image on the WSUMC sign (corner of Marion and Washington) as a ribbon on the web; updating the website, in general, to reflect our affiliation with RMN; and
to investigate the use of WSUMC persons as counselors by the LGBTQAI+ community, if needed, at an affordable cost.
A discussion was held about where WSUMC is now, post RMN vote. It was shared and agreed upon that, 6 months post-vote, it is time to live out boldly
and publicly who we are; that we are faithfully going forward. We need to share with those who are concerned that we are living out scripture and being Biblically obedient; people need to see and hear this (printed materials, from the pulpit, etc.).
The question, "How are we living who we are?" was asked. The RT agreed that many things are occurring (banner has been placed in a high-traffic area on Bull Street,) and we are using the WS Identity Statement in all correspondences, and news stories highlighting WSUMC's stance, wearing Do No Harm buttons, etc.). It was also shared that the congregation has an important role to play if we say we are a warm and welcoming church. The RT agreed that we need to all
focus on welcoming openly and warmly, no exceptions.
While COVID has put any in-person meetings on hold. This team continues to meet monthly to work towards meeting the needs of this church and its community. For more information, contact Jim Lane at jlane@columbiasc.edu.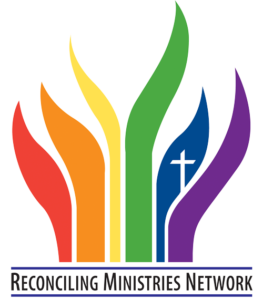 Washington Street United Methodist Church is a member of The Reconciling Ministries Network (RMN). The Reconciling Ministries Network envisions a renewed and vibrant Wesleyan movement that is biblically and theologically centered. As committed disciples of Jesus Christ, we strive to transform ourselves and the world by living out the Gospel's teachings of grace, love, justice, and celebration of all of God's children.
To read more about RMN, click here to download their brochure.
Reconciling Ministries Network (RMN) is rooted: 36 years of changing hearts and churches. And we are rising: a force of over 1,300 Reconciling ministries and over 40,000 individuals devoted to LGBTQ justice, ready for the next faithful step.
RESOURCES AND UPCOMING EVENTS
Schools & Supporting Students
Join Parents Reconciling Network and RMN on Tuesday, January 24th, as we hear from school leaders and parents who desire to create healthy environments for their students. We will discuss many topics including:
What is and is not allowed in schools,
School leadership doing good work,
How to be an advocate with school counselors
How to be an ally with local schools
Genders and Sexualities Alliances (GSA) in schools
PFLAG resources for school leadership
What can people "expect from the school"
We hope you will join us for this important conversation. We look forward to seeing you soon!