Check out this wonderful video in support of transgender youth from the ACLU:

Misinformation is fueling an attack on trans youth in state legislatures. These attacks overwhelmingly focus on youth and schools. They try to make being trans shameful — but they won't stop youth from being trans. They will only make it harder for kids to grow up at all and make it harder to access the support, education, and community that all young people deserve.
While everyone should be contacting lawmakers and expressing their support for trans youth, we know that these attacks aren't limited to statehouses. The lies about trans youth spread at the dinner table, PTA meetings, and many other places. It takes all of us speaking out and speaking up.
Watch ACLU's Ambassador for Trans Justice, Miss Peppermint, and LGBTQ & HIV Project Staff Attorney Taylor Brown tell us the truth about trans youth and then check out these resources, so you know how to respond the next time you hear a lie about trans youth.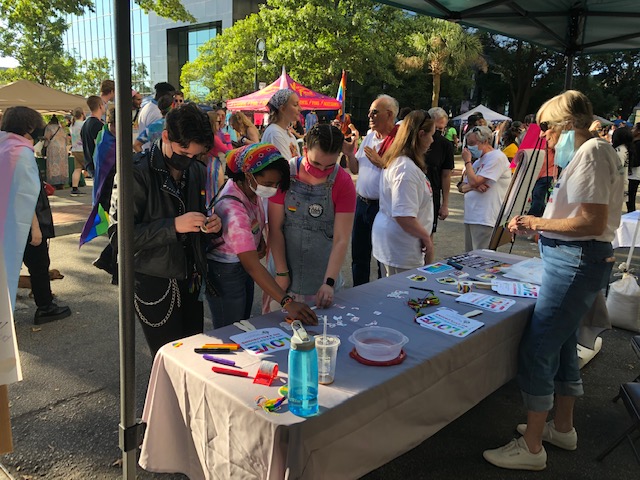 As a visible witness to God's inclusive love for all people, members of WSUMC participated in the Famously Hot SC LGBTQ Pride on October 22 and 23. On Friday evening, approximately 25 members of WSUMC, their friends and relatives, marched in the PRIDE parade. This marked the fourth time WSUMC has had a presence in the parade. 
On Saturday, for the first time, WSUMC had a vendor booth at the festival. Swag such as luggage tags, key chains, fans, stickers, etc., all purchased and donated by members of the Grace Sunday School Class and all with affirming messages and information about WSUMC, were given to festival-goers. 
In collaboration with Alexandra Kaufman, a Health Sciences major at the University of SC, festival-goers were encouraged to respond to two questions: 1) What is something you wish straight Christians knew? and 2) How did the Christians in your life respond to you coming out? Responses will be used in an upcoming listening session at WSUMC to help us continue to plan our work as a reconciling congregation. 
The responses were thoughtful, prayerful, encouraging, as well as painful and brought a lot of feelings from all who participated or stopped to read the responses.
---
QUESTIONS/RESPONSES
What is something you wish straight Christians knew?
Love is equality

Homosexuality was not in the Bible until like the 1900, so if the word of God is 2000 years old, somebody is a liar, and it is not Jesus.  BE FREE.

Love is Love!  God loves us all!

No judgment

It's not a choice

God so loved the world…

God loves everyone 

You can love God and still be gay

People have no place in judging who goes to hell and who doesn't

Look(s) aren't something to care about.

God loves us no matter what.

WE ARE ALL HUMAN!

We just want to be treated EQUAL

Love is love

That being happy is for everyone 

We are all God's children

Being gay isn't what's sending me to hell 

Jesus loves the gays

Baby, I was born this way. 

LOVE period!!!

Love conquers all!

The word homosexual wasn't in the Bible until 1946. It was added due to hate.

God loves ALL his children.

I am a child of God.

Let them live; let them love. 

That Jesus did not have hate in his heart, and unconditional love is not conditional

We were created in His image.

I promise the Bible isn't saying what you think it is.

That we matter too.

What if feels like to have a community that preaches love and tolerance shut you out immediately

That the original translation said nothing about homosexuality

How much pain and hurt they caused – people/kids lose their lives over it – Christian's misguidance. 

God loves all! No exceptions. No exclusions.

When God said, "Love thy neighbor," he meant everyone.

God transcends GENDER

GOD LOVES everyone no matter what!!

You can love who you want and still make the good list for (last word unreadable) 

There isn't anything in the Bible that says God hates gay people.

God loves everyone.

I am human too.

The Bible says to LOVE

I am who I am, not who you want me to be.

Street preaches are the epitome of arrogance

Love is equality!!

All people are worthy of a conversation

Don't assume we're all like "fabulous" etc.; like, we're regular people too.

We can't change this (no matter whether you or even we, want to)
2. How did the Christians in your life respond to you coming out?
Parents = shock; grandmother = LOVE

Family was very supportive and said, "God loves you and made no mistake." 

Dad said, "I love you not matter what status a person has in life." 

I was shunned by everyone in my "church family"

Mom – "Jesus loves you, and I do too! I will still love you; you're still my kid"

Parents = accepting; extended family = tolerant

Lead with LOVE

They said, "This is not God's plan for you."

That I was possessed.

I've always just been me; no need to explain.

Thankfully supportive – XOXO

"You don't love me." 

"I love you"

Love everyone

"You're going to hell"

"I love you for you."

LOVE is LOVE

Judgment and counseling

"OK"

Hate

Judgment without LOVE

Loving and accepting; lots of questions, but open-minded

I was kicked out and lost everything. Today I choose my family and I love myself and that is enough.  God's Peace.

I got blocked on Facebook

Prayed the Gay Away

"You haven't found the right man." 

BCM (Baptist College Ministry) – USC accepted me

They weren't happy

I was sent away for the summer to family who stripped me of all electronics, privacy, and all my friends

"That's not real."

I have not formally come out, but WSUMC welcomes everyone with open arms.

"It's not how God intended." 

Changed their expectations of what dating looked like and how it made them shameful

My dad CRIED 

That I was actively/consciously choosing to sin

Said, "No, you're not." 

"You are not my kid."

"I lost my daughter." 
During the day numerous festival-goers thanked those from WSUMC for having a presence at the festival; one attendee was heard as she shared to another, "That's a great church!" 
Thank you to all who had a part in making this a great experience for WSUMC members and for those who were impacted by WSUMC's presence at PRIDE and a special thanks to WSUMC clergy for their presence and participation. A special thanks goes out to all of those who so graciously represented WSUMC at our booth: Jane Peterson, Vickie Voegeli, Lisa Voegeli, Jan Baker, Jenny Dalrymple, Cindy Cox, , Rebecca Elswick, Becky Shirley, Christine Hait, MJ Fox, Kitty Hepfer, Christine Hait, Marcia Lane, Elaine and John Ferraro, Jim Lane, Alston Lippert, Alston Lee Lippert, and Nancy Whittle.
---
---
---
The Reconciling Ministries Network has a new page of fabulous resources. Take a moment to take a look!
A.N.G.E.L.S.
One of the initiatives of the Reconciling Next Team at Washington Street United Methodist Church is a group called ANGELS (Aging in God's Eternal Love) for those 55+ that will work to provide support for LGBTQAI+ persons (and allies) that are over 55.
RESOURCES:
Use your story to make a difference…Working together to pass the Equality Act
https://go.sageusa.org/webmail/697503/492023220/87af59f07bd752ff82918d011b4fbffff2e7e52a6fb31f59ea688b8822af8c2f
UPCOMING ANGEL EVENTS:
"Blended Happy Hour"
Join us for monthly joint happy hours on the 3rd Friday of each month at 6 pm via Zoom with our friends from Reformation Lutheran Church!
Starts Sept. 17! Email Jim Lane for the link to join us!
November
Nov. 19 — Blended Happy Hour — 6 pm
Transgender Day of Remembrance (Nov. 20)
"How to Work with LBGTQI Seniors" — Date TBD
December
Dec. 17 — Blended Happy Hour — 6 pm (Hosted by WSUMC)
January
Jan. 21 — Blended Happy Hour — 6 pm

Love Prevails Group announces departure from denomination
RIVER FALLS, Wis. — After years of direct action in support of LGBTQ equality at general church meetings, Love Prevails announced that it is departing The United Methodist Church. "Love Prevails has come to the painful conclusion that the UMC's leadership and methods are so corrupt that we must replace 'Disclose, Divest, and Disrupt' with one final word 'Depart,'" said the letter signed by 12 members.
An Open Letter to Members and Leaders of the United Methodist Church
Posted June 28, 2021
For nearly fifty years, The United Methodist Church (UMC) has officially discriminated against LGBTQIA+ persons in doctrine, policy, and practice. In these five decades, the UMC has denied God's calling of Queer people to ordained ministry, revoked Queer clergypersons' orders, refused to bless Queer relationships in ceremonies of Christian marriage, and spoken vile lies about Queer lives from the floor of General Conference. The UMC's intention that "all persons are individuals of sacred worth" has been rendered hollow by its sinister anti-gay teachings and its inflammatory silence in the presence of physical violence and spiritual harm. The Church has been and remains complicit in the suicides, beatings, and murders of Queer persons. READ MORE
Reconciling Ministries Team
---
About the Team
On January 7, 2020, the first meeting of the Reconciling Ministries Team gathered together to begin focusing on LBGTQI issues within our church and our community.
An agenda and a copy of the Discernment Implementation Team Report to Church Council (May 2019) were distributed. Each attendee self-introduced by responding to the question, "What is your hope for this team?" Comments shared touched on the following hopes:
 Dialogue with and unity of the congregation;
 Supporting groups and being a "safe space" for LGBTQA+ groups to meet;
 Desire to change the community at large, not just those at WSUMC;
 Being a useful and helpful member; helping to build on the welcoming spirit at WSUMC;
 Advocacy and ministry in the community to LGBTQAI+ persons, particularly in the downtown area;
 Learn more and help to build a unified church in welcome diverse persons;
 Be of service to the committee; help spread the message of inclusion;
 Help address the issue of systemic discrimination in the discipline; be an active change agent;
 Engage in the committee and help build community;
 Help to meet the needs of individuals we are not reaching now – young adults; use creative means to do the committee's work (Go Fund Me example); and
 Build bridges with our community; do meaningful work.
Two specific goals were the focus for the team stated in the Discernment Implementation Team Report to Church Council:
1) to lead advocacy and information efforts within our congregation as we strive to see a transformed United Methodist denomination wherein all
members have access to all the privileges of membership, and 2) to build ministries of compassion and justice with and for the LGBTQAI+ community.
Many topics were discussed pre-COVID. Some of which have taken place, others are on hold until we pass this health crisis.
Discussion followed regarding the focus of the group. Among the topics discussed were:
the need to reach out to Harriett Hancock Center, PALSS, Transitions, SC Equality about partnership opportunities;
Invite reps from USC GLBTQ Alliance, Columbia College, Allen and Benedict Universities GSAs to dinner and sharing, to build connections and understand better the needs of today's GLBTQAI+ college students;
the issue of sustainability of UM churches and what church may look like in the future (not Sunday morning at 11); sharing that the WSUMC Identity Statement is included on all communication that comes from the church;
the possibility of putting the image on the WSUMC sign (corner of Marion and Washington) as a ribbon on the web; updating the website, in general, to reflect our affiliation with RMN; and
to investigate the use of WSUMC persons as counselors by the LGBTQAI+ community, if needed, at an affordable cost.
A discussion was held about where WSUMC is now, post RMN vote. It was shared and agreed upon that, 6 months post-vote, it is time to live out boldly
and publicly who we are; that we are faithfully going forward. We need to share with those who are concerned that we are living out scripture and being Biblically obedient; people need to see and hear this (printed materials, from the pulpit, etc.).
The question, "How are we living who we are?" was asked. The RT agreed that many things are occurring (banner has been placed in a high-traffic area on Bull Street,) and we are using the WS Identity Statement in all correspondences, and news stories highlighting WSUMC's stance, wearing Do No Harm buttons, etc.). It was also shared that the congregation has an important role to play if we say we are a warm and welcoming church. The RT agreed that we need to all
focus on welcoming openly and warmly, no exceptions.
While COVID has put any in-person meetings on hold. This team continues to meet monthly to work towards meeting the needs of this church and its community. For more information, contact Jim Lane at jlane@columbiasc.edu.
---
Resources
The RNT would like to share this remarkable video with you. This is a wonderful documentary with Katie Couric that deals with the ever-evolving gender revolution. We hope you love it as much as we did!
Watch it for free here: https://fb.watch/4sqinZMyQT/
---
For aging LGBTQ:
https://www.facebook.com/Gayarp/
Great read!
Raising My Rainbow
ADVENTURES IN RAISING A FABULOUS, GENDER CREATIVE SON
By LORI DURON
Foreword by
Neil Patrick Harris

and David Burtka
Read more about it here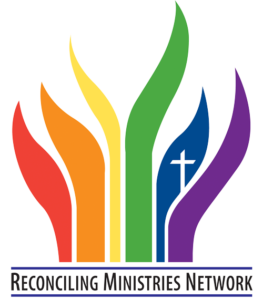 Washington Street United Methodist Church is a member of The Reconciling Ministries Network (RMN). The Reconciling Ministries Network envisions a renewed and vibrant Wesleyan movement that is biblically and theologically centered. As committed disciples of Jesus Christ, we strive to transform ourselves and the world by living out the Gospel's teachings of grace, love, justice, and celebration of all of God's children.
To read more about RMN, click here to download their brochure.
Reconciling Ministries Network (RMN) is rooted: 36 years of changing hearts and churches. And we are rising: a force of over 1,300 Reconciling ministries and over 40,000 individuals devoted to LGBTQ justice, ready for the next faithful step.

That next faithful step is Rooted & Rising: RMN's comprehensive campaign for the next season of the Reconciling movement. It refocuses the organization's efforts on its grassroots organizing with a deep commitment to intersectional LGBTQ justice. Rooted & Rising represents a movement ready to be the Church, no matter what the denomination decides when the General Conference meets. On our website, you'll find more information.