Over 52,000 Meals Served a Year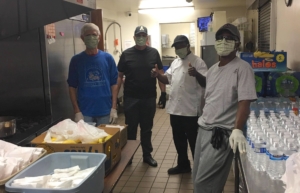 With grateful hearts, our Washington St. Soup Cellar & management team accepted the Servant's Heart Award from the Midlands Area Consortium for the Homeless, "In recognition of a commitment to the individuals experiencing homelessness while maintaining a spirit of humility."
This mission would be impossible without the many local churches, organizations, and groups that give of their time and resources to ensure that our Soup Cellar continues to provide encouragement, warmth, and care to those who need it. With their help, we will have served over 52,000 meals to the homeless and working poor this year.
Currently, due to the Cornavirus outbreak, the Soup Cellar is serving takeout bag lunches only. Hours are 11:30 am to 12:30 pm. For more information, contact Robbie Douglas at rdouglas@wsmethodist.org.
We are seeking monetary donations to keep our ministry going. To donate to the Soup Cellar, CLICK HERE.
Our Soup Cellar operates strictly off of community donations and support. If you would like to give a gift today, click here.
The Soup Cellar is an ecumenical ministry of churches in the Columbia area. It first opened its doors on October 15, 1979. Twelve people came that first day and were nourished.
From the beginning, the Soup Cellar provided a simple, nutritious meal to anyone who wanted one. It served as a place where anyone who came was treated as a child of God. Still to this day, we give them something to eat and drink, but they receive much more. We provide warmth in a season of cold. We provide encouragement. We share our faith. We share our belief that everyone is entitled to the love and concern of their fellow human beings.
During the first year, the Soup Cellar was open only Mondays and Fridays and was operated solely by the staff and members of Washington Street. As more and more people sought us out, the numbers served increased to 50-60 per day, and other churches began to financially support the ministry. As the number of people further increased, additional churches joined the effort to support and serve in the Soup Cellar.
Today, a meal is provided Monday – Friday, excluding Thanksgiving and Christmas. Our church hosts the Soup Cellar, and we provide and serve meal on the 2nd, 3rd, 4th, and 5th Mondays of each month. Other churches throughout the Columbia area rotate their volunteer teams for 1st Monday as well as Tuesday – Friday.
The day-to-day operation of the Soup Cellar involves two shifts. The "cooks" prepare the meal between 8:00 – 10:00 a.m. The basic meal served consists of two sandwiches, fruit and/or soup, a sweet snack, and a beverage. Soup season is mid-October through mid-April. The second shift of "servers" work between 11:30 AM – 12:30 PM when the Soup Cellar serves lunch.
The Soup Cellar obtains some food at minimal cost from Harvest Hope Food Bank through the USDA Commodities Program and the donated Food Program. Additional food and needed supplies are purchased or acquired through donations. Donations of food, time, and money are always needed and welcomed.
In 2012, we served over 52,000 meals to those who would otherwise go without a meal.
Questions? Contact Terrence Chisholm at terrence@wsmethodist.org.
South Carolina Department of Social Services
Commodity Supplemental Food Program
THE EMERGENCY FOOD ASSISTANCE PROGRAM (TEFAP)
WRITTEN NOTICE OF BENEFICIARY RIGHTS
Nondiscrimination Statement