New!
Racial Justice Action Team
This new committee was formed to address and respond to racial injustice after the death of George Floyd. The Racial Justice Action Team met for the first time on June 29, 2020. Members of this team include Patricia Parrish, Alston Lippert, Nancy Whittle, Cindy Cox, Melanie Dobson, Neal Foster, Courtney Foster, Ann Jessup, Karen Lowrimore, Anne Sinclair, and Lee Smith. Nancy Whittle and Pastor Parrish are facilitating the team.
VISION: To actively advocate for racial justice within our congregation and community.
MISSION: Our mission is to inspire and engage our congregation and community to challenge and transform unjust systems of institutional and personal power. To accomplish this mission, we will:
Educate ourselves and others around both historic and lived issues of systematic injustice. (Karen Lowrimore,

sctatter@gmail.com

; Cindy Cox,

ckcrg@bellsouth.net

)
Confront our own biases and the biases of others within WSUMC and the community at large. (Ann Jessup,

jessup.ann@gmail.com

; Courtney Foster,

supported.info@gmail.com

)
Identify and remove barriers that prevent justice in social systems (education, housing, voting, law enforcement, etc.) Anne Sinclair,

asinclair1@bellsouth.net;

Cindy Cox,

ckcrg@bellsouth.net

Lead efforts to engage our congregation in the sustained work of racial justice (Nancy Whittle,

ncwhittle@aol.com

;

 

Patricia Parrish,

pjparrish@umcsc.org

)
The names in parentheses are the team members who will take the lead on these individual efforts by working on actions to achieve each goal. We want to engage the congregation in this effort and we ask for you to join in this journey. If you have a specific interest in the above, please contact the lead team members. We welcome and encourage your participation. We also plan to work with other existing church teams on each action.
Coming November 9
A USC Office of Diversity Event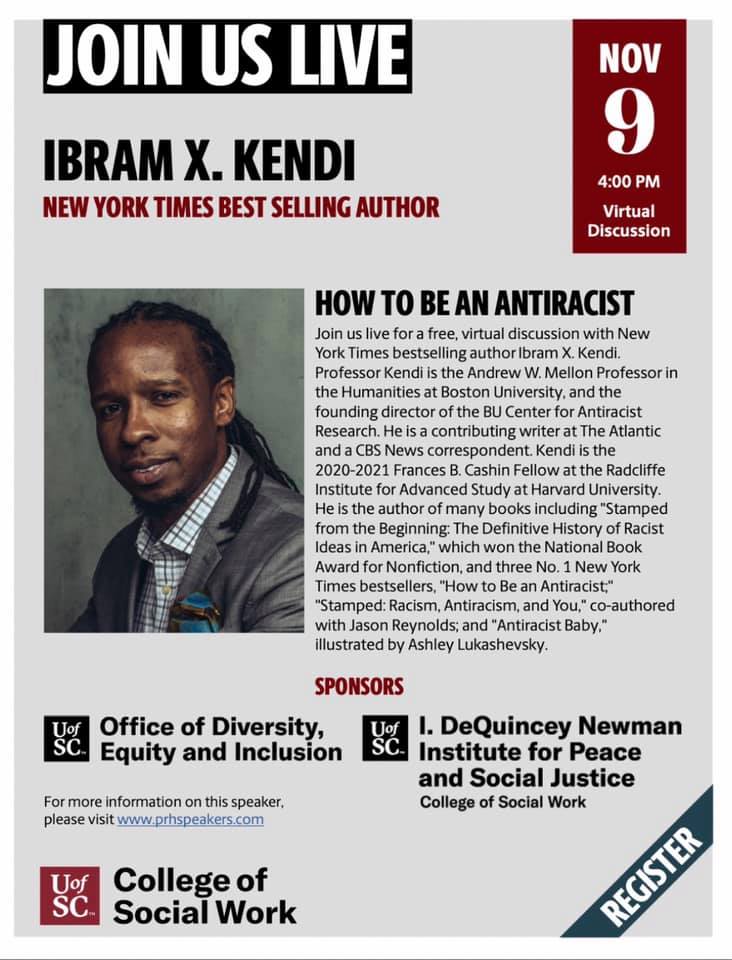 RESOURCES:
Historic Columbia is hosting a virtual program — Stories of Struggle: The Clash over Civil Rights in South Carolina, with author and journalist Claudia Smith Brinson in conversation with civil rights activist and photographer Cecil Williams, moderated by Historic Columbia Executive Director Robin Waites. CLICK HERE TO REGISTER OR FOR MORE INFORMATION.
Resources from Richland County Library (RCL)
www.richlandlibrary.com/lists/thought-leaders-read
MINORITY OWNED BUSINESSES PARTICIPATING
IN SODA CITY IN DOWNTOWN COLUMBIA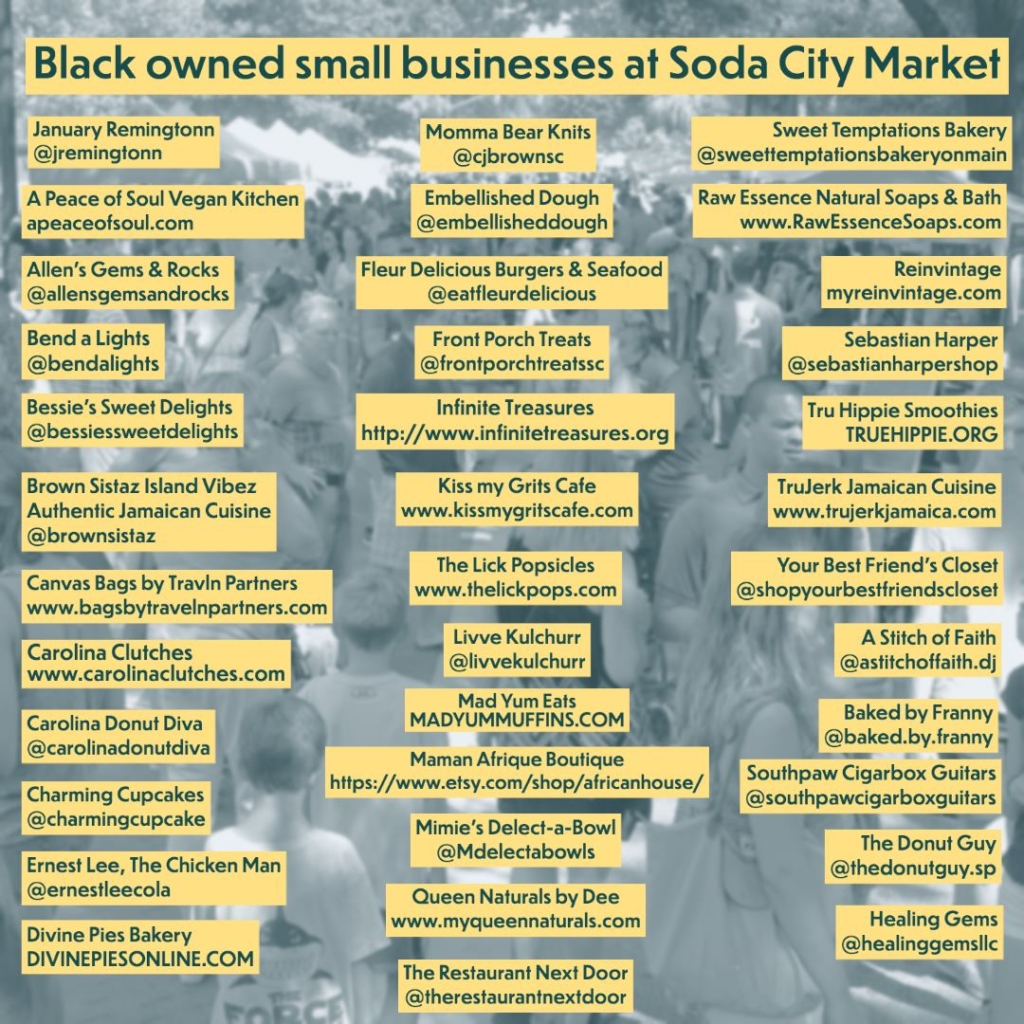 • Order Books from Independent Black-owned book stores: (click here)
• Here is a great list of books on racial justice compiled by Courtney Foster
Confused about the voting process in South Carolina?
Here is some great information to help!