---
The History of Racial Justice Issues at Washington Street UMC
A four-part series written by WSUMC Historian, Mike Broome
This four-part series was published in four issues of Washington Street's The Connection newsletter. Each article represented an event in the history of WSUMC and how we have stood up for racial injustices for many years. You can read the entire series by clicking on the article title below.
---
Upcoming Events and News of Interest
---
BY CHRIS TRAINOR
Page Ellington was a master builder, self-taught architect, community leader, and former slave who lived in Columbia for many years and helped design buildings at the former State Mental Hospital site on Bull Street.
Cola Today posted a wonderful resource in honor of Black History Month:
The South Carolina African American Heritage Commission (SCAAHC) has a resource called The Green Book of SC, a website that allows you to find 300+ African American historic landmarks, making it the first mobile travel guide for Black cultural sites across the state. READ MORE HERE!
---
UMCSC offers "Our Response to Racism" tools for local churches
The endeavor to end racism dates back centuries and is firmly rooted in scripture.
"As I have loved you, so you must love one another." – John 13:34 (NIV)

"God does not show favoritism but accepts from every nation the one who fears him and does what is right." – Acts 10:34-35 (NIV)

"Anyone who hates a brother or sister is in the darkness and walks around in the darkness. They do not know where they are going, because the darkness has blinded them." – 1 John 2:11 (NIV)
How do we end racism? By taking one step at a time, by getting to know each other and each other's stories, by having conversations that lead to understanding, and then by working together to take relevant, meaningful action to make a difference.
"Our Response to Racism – Forming Authentic Connections Across Racial Lines" is a compilation of resources commissioned by Bishop L. Jonathan Holston through The Cabinet of the South Carolina Conference of The United Methodist Church designed to help local churches do just that.
---
About the Racial Justice Action Team
This new committee was formed to address and respond to racial injustice after the death of George Floyd. The Racial Justice Action Team met for the first time on June 29, 2020. Members of this team include Patricia Parrish, Alston Lippert, Nancy Whittle, Cindy Cox, Melanie Dobson, Neal Foster, Courtney Foster, Ann Jessup, Karen Lowrimore, Anne Sinclair, and Lee Smith. Nancy Whittle and Pastor Parrish are facilitating the team.
VISION: To actively advocate for racial justice within our congregation and community.
MISSION: Our mission is to inspire and engage our congregation and community to challenge and transform unjust systems of institutional and personal power. To accomplish this mission, we will:
Educate ourselves and others around both historic and lived issues of systematic injustice. (Karen Lowrimore,

sctatter@gmail.com

; Cindy Cox,

ckcrg@bellsouth.net

)
Confront our own biases and the biases of others within WSUMC and the community at large. (Ann Jessup,

jessup.ann@gmail.com

; Courtney Foster,

supported.info@gmail.com

)
Identify and remove barriers that prevent justice in social systems (education, housing, voting, law enforcement, etc.) Anne Sinclair,

asinclair1@bellsouth.net;

Cindy Cox,

ckcrg@bellsouth.net

Lead efforts to engage our congregation in the sustained work of racial justice (Nancy Whittle,

ncwhittle@aol.com

;

 

Patricia Parrish,

pjparrish@umcsc.org

)

The names in parentheses are the team members who will take the lead on these individual efforts by working on actions to achieve each goal. We want to engage the congregation in this effort and we ask for you to join in this journey. If you have a specific interest in the above, please contact the lead team members. We welcome and encourage your participation. We also plan to work with other existing church teams on each action.
RESOURCES:
For many years BellSouth/AT&T produced an African American History calendar. In the last few years, the SC DOE has taken over this project. It was created to be a resource for teachers to use in the classroom. The calendar generally features individuals. However, for the 25th anniversary, they have highlighted key historical events.  The link below will take you to the full website with current calendar and archives of all years.
https://scafricanamerican.com/
---
Resources on Columbia's African American and Civil Rights History
Clergy for Racial Equality (CFRE) is a Columbia District network of support and empowerment for clergy to share ideas and "best practices" of addressing racism in each pastor's community and church context.   CFRE invites you to explore a virtual tour created by Columbia SC 63. This tour covers important African American and Civil Rights Movement historical landmarks.
Whether you explore this tour online or by foot, you can refer to the resources below for further information about this important but often forgotten history of Columbia, SC.
Begin your tour by visiting http://www.columbiasc63.com/tour. If a landmark piques your interest, check below for further learning.
Columbia in the 1960s: The State House and Public Protest
"March 2, 1961 at the State House," Richland County Library blog
Sarah Mae Flemming and the Integration of Public Transportation
Sarah Mae Flemming bio by Columbia City of Women 
Video about Sarah Mae Flemming by BWCAR 2016
Legacies of the Civil Rights Movement in South Carolina
Briggs v Elliott video by The 74 
Briggs v. Elliott article by The 74
We Shall Not Be Moved: South Carolina Student Activism and the Supreme Court
The Orangeburg Massacre video by SCETV
Bouie v City of Columbia Historic Marker
"Eckerd's" by 2020 Jubilee (video)
Old Greyhound Bus Station
"Traveling in Columbia during the Jim Crow era," Richland County Library blog
The Walls Came Tumbling Down: Integration & Racial Dialogue
Interview with Henri Baskins about CCRC
Modjeska Simkins House
Bio of Modjeska Monteith-Simkins by National Parks Service
Township Auditorium
"Township Auditorium" by 2020 Jubilee (video)
"Dr. Martin Luther King Jr. in Columbia," Richland County Library blog
Washington Street. Black Business District
Black Business District, Historic Columbia
"Main Street at Mid-Century," Richland County Library blog
Victory Savings Bank/NAACP Office
Cocktail With A Curator – Toy Reveals History of First Black Owned Bank in South Carolina (video)
A Living Sanctuary: Zion Baptist Church & Columbia's Civil Rights Struggle
"Zion Baptist Church" by 2020 Jubilee (video)
---
---
---
Resources from Richland County Library (RCL)
MINORITY OWNED BUSINESSES PARTICIPATING
IN SODA CITY IN DOWNTOWN COLUMBIA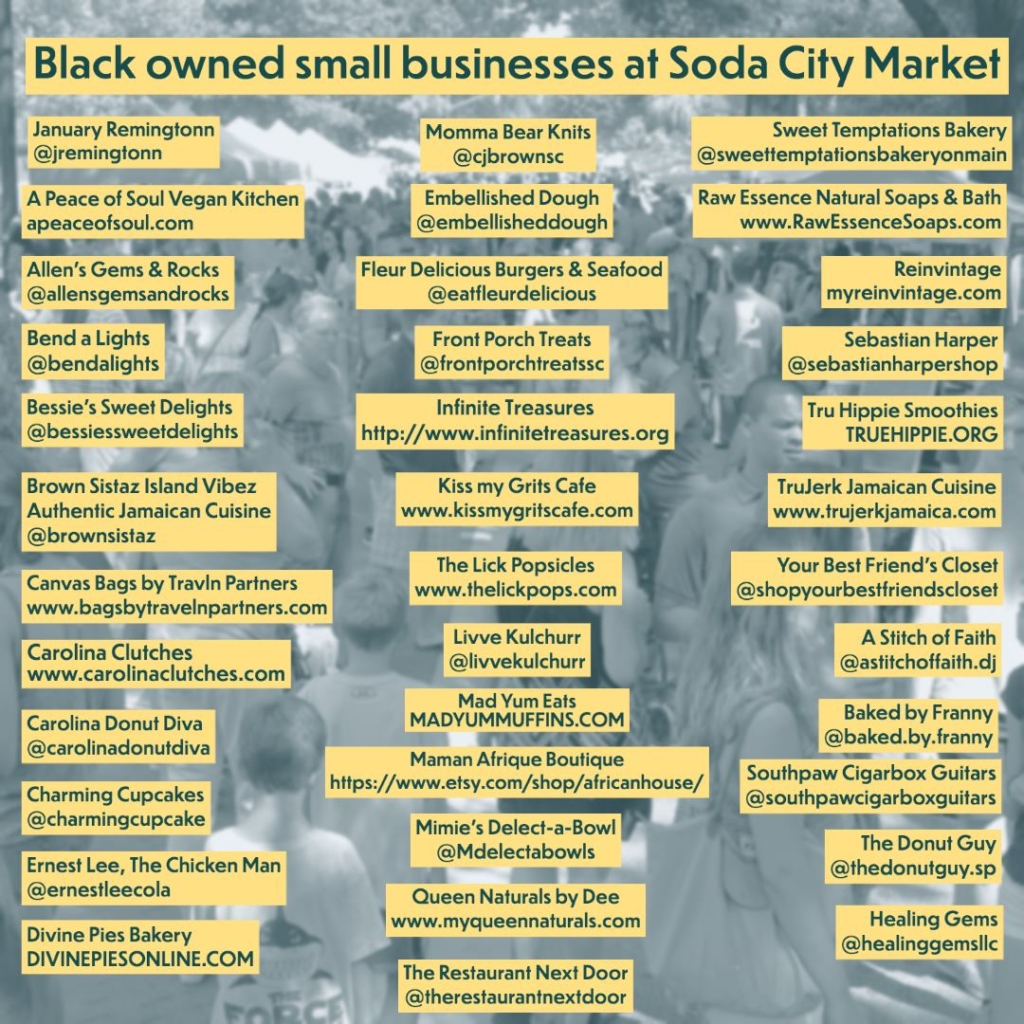 • Order Books from Independent Black-owned book stores: (click here)
• Here is a great list of books on racial justice compiled by Courtney Foster